A Promise Made, A Promise Kept
March 18, 2020
Designated to advance strategic initiatives of our nationwide network, Lutheran Services in America's "Realizing the Promise" fundraising campaign has surpassed its $500,000 goal!
Read More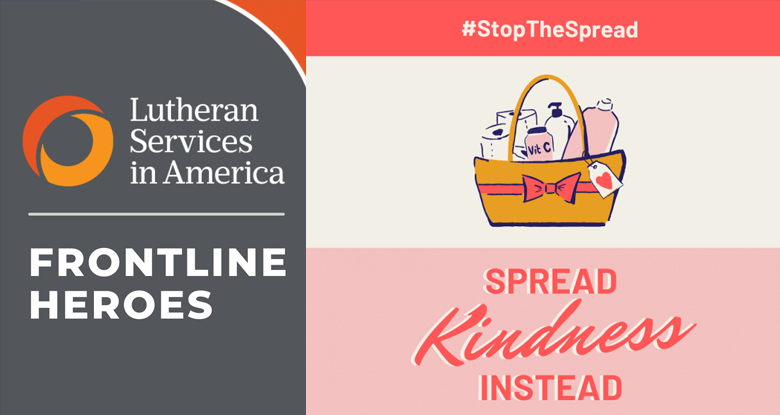 Today's Front Line Hero: Mount Olivet Rolling Acres
March 30, 2020
Today's Front Line Hero is Tracy Murphy, President of Mount Olivet Rolling Acres in Minnesota. Tracy recognizes the funding challenges non-profits are facing as they aim to continue their important services amidst the COVID-19 outbreak.
Read More
Get notified of new blog posts
One of the key areas where Lutheran Services in America brings together our members—along with strategic national partners in philanthropy, academia, healthcare and more—to advance innovative solutions is in enabling older adults to live with dignity, health, meaning, and independence in a place where they call home.
We recently partnered with our member NYU Langone Family Health Centers (formerly Lutheran Family Health Centers), the University of North Carolina at Chapel Hill (UNC), and The Harry & Jeanette Weinberg Foundation to empower older adults in affordable housing—particularly those transitioning from the hospital or post acute care—to remain living independently in their community.
The work builds on a four-year partnership with UNC and The Harry & Jeanette Weinberg Foundation where we worked with seven members in seven states to successfully transition 875 older adults from post-acute care to home, demonstrating improvement in care transition and quality of life.
The current two-year project will expand UNC's Connect-Home transition care model to strengthen the capacity of staff to identify affordable housing residents most at risk of hospitalization, address gaps in care that lead to increased isolation and emergency room visits and enable older adults to live independently. Genacross Lutheran Services is providing peer support and expertise based on the extensive work they have done to assess and connect their affordable housing residents to services in the community.
Why is this important? According to CMS, 76 percent of 30-day hospital readmissions are preventable.  And we know the transition from hospital to home places older adults at risk.  We also know that when we bring together our members with expertise and funding from partners in academia, philanthropy and healthcare that we can tackle tough challenges and make a meaningful difference in the lives of people.
We look forward to sharing with you the learnings and results of the work and partnership in the future.
The Lutheran Services in America network is unlike any other nonprofit network in the United States. From the services we provide to the people for whom we care, we are a network with a unique approach to empowering people and communities.
That unique approach is built into our core, from the frontline workers in 1,400 communities across the country to our very leadership. Lutheran Services in America has a board of directors comprised of 10 to 13 members that brings together diverse insights to our work.
We are pleased to add yet another trusted member to the board with invaluable perspective and depth of experience: Eric Gurley, the president and CEO of our member Immanuel. Eric has worked in the senior living space for 31 years and has extensive experience with strategic planning, implementation and reporting in senior housing and healthcare.
A native East Coaster, Eric migrated to the Omaha-based Immanuel, where he expanded services to cover 2,500 older adults, up from 800. Under his leadership, Immanuel grew from 300 employees to 1,400 and expanded missional service to underserved populations through the implementation of three innovative models of care, including the Program of All-Inclusive Care for the Elderly (PACE). Eric also oversaw the creation of the Immanuel Vision Foundation, which has given more than $15 million to the Church and other nonprofits, and the Immanuel Community Foundation, which fulfills the promise that no one will be asked to leave Immanuel due to the inability to pay.
Eric has broad experience serving on the boards of directors of other nonprofit organizations, including Lutheran Giving, Nebraska Lutheran Outdoor Ministries, the Omaha Symphony and the Experimental Aircraft Association and its foundation (fun fact: Eric is a licensed pilot!).
Lutheran Services in America member CEOs elected Eric to the board at the Annual Meeting in January. Eric's term, which began on July 1, runs through June 30, 2025. We look forward to the next three years of Eric's talent and perspective!
Visit our Leadership page to meet our board of directors.
Thirty-two years ago today, President George H. W. Bush signed the Americans with Disabilities Act into law. The passing of the ADA was a landmark event that prohibits discrimination against people with disabilities across the country.
The ADA's passage was a momentous occasion that advanced the cause for equal opportunity for millions. Three decades later, we continue to take steps forward to ensure that people with disabilities have access to services and supports that are critical for maintaining a life of independence, dignity and respect.
For many people living with disabilities, funding and other support is incredibly helpful in preserving their quality of life. For Deb, assistance in making improvements to her house was vital. With the help of additional resources, Deb worked with her service provider Gretchen at our member Mosaic to make the necessary updates to her home to meet her needs. Deb's story is one of inspiration and success. "I feel so independent," she said.
All people deserve the opportunity to live abundantly and independently. Additional resources are required for accessible housing and long-term services and supports for those who need them. The path to improved services includes a broad approach to address the challenges facing the disability community. Strengthening the direct care workforce and expanding home- and community-based services are a must. But we must also take care to shore up the financial security and independence of those receiving care while expanding civil rights and protections.
In taking these approaches, our nation can make the investment needed to lift up the direct care workforce and provide equal opportunity to people with disabilities to realize their potential.
Learn more about our work to champion services for people with disabilities.