Bethel New Life | 1150 North Lamon Avenue, Chicago, IL 60651
Where can we find the best insights to support children and families struggling with housing insecurity, underemployment and other issues of social concern? It's when we listen, support and value people with lived experience that together we can authentically uncover and unlock new ways of thinking. When someone who is struggling has a voice and champion now on the other side of that struggle, it can be life-changing.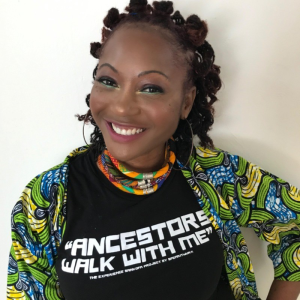 What does this mean for you? Whether a direct service practitioner, community leader, executive, volunteer or church leader, Lutheran Services in America invites you to join us for a transformative convening on November 14–15 in Chicago led by Dr. Denicia Carlay and Spark Learning for Organizations. Join with peers to co-create a space where we will sit with the power of lived expertise and explore ways to infuse, value and engage people with lived experience throughout our work to advance equity for families and children in our communities.
Dr. Denicia Carlay (also lovingly referred to as Docta Neesh) currently serves as co-founder and co-CEO of Village Is Possible. Denicia is a community healer, complex trauma survivor, scholar, practitioner and village keeper. Denicia has served young people impacted by foster care and juvenile justice as a social worker, consultant, clinician, and facilitator. She holds a doctorate in educational leadership in social justice and is licensed in clinical social work.
At the day-and-a-half convening Dr. Carlay will lead us in:
Hearing from advocates and practitioners with lived experience to understand the power and strategic guidance embedded in their stories and perspectives;
Strengthening our ability to center lived expertise in work with families and communities; and
Engaging with a local grassroots partner to understand how housing insecurity affects families.
The convening, held in partnership with Bethel New Life and the Evangelical Lutheran Church in America will take place on November 14–15. The event, an extension of Lutheran Services in America's Results Innovation Lab, represents the first of multiple offerings in the coming year that will unite Lutheran Services in America and Evangelical Lutheran Church in America communities, and partners, in learning and action to move from intention to impact in how we show up in our work with children and families.
Registration is free and you can register today to secure your place!
Convening Details
Tuesday, November 14 will be a full day of convening at Bethel New Life's facility in Chicago. The day will begin at 9:00 a.m. and will conclude by 4:30 p.m. Breakfast will be provided, starting at 8:00 a.m. Lunch will be provided.
On Wednesday, November 15, you will have an optional half-day experiential learning opportunity to learn and debrief with colleagues about issues around housing insecurity for families in Chicago.
Travel Recommendations
The convening is FREE to attend. While there is no registration cost, attendees will be responsible for their own travel expenses.
With respect to flights, both Chicago airports — O'Hare and Midway — are appropriate for the convening.
Recommended hotels include:
Registration
Registration closes Friday, October 13. While registration is complementary, registering for the conference represents a firm commitment to attend. We recommend that teams consider registering together to maximize learning and application in your organization.
If you have any questions or need more information, please reach out to Emily Sollie.