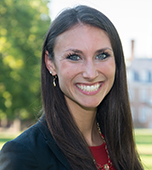 By Caitlyn Gudmundsen, Senior Manager of Program Development and Outreach 
Today's Front Line Hero is Advocate Aurora Health, which is partnering with the ELCA Outreach Center in Kenosha, WI to provide support to the community.
Advocate Aurora Health is one of the ten largest non-profit health systems in the United States, and a leading employer in the Midwest. It includes more than 500 sites and serves more than three million patients annually. With an aim to help people live well, Advocate Aurora Health is a national leader in clinical innovation, health outcomes, consumer experience, and value-based care.
There has been considerable trauma in the community of Kenosha, WI over the past weeks with the shooting of Jacob Blake by police on August 23 and the protests that ensued. Many people in Kenosha are feeling afraid and uncertain. With the support of United Way of Kenosha County, Advocate Aurora Health is responding to the need for additional support to address that trauma in the community. Advocate Aurora Health is providing Community Support Sessions at the ELCA Outreach Center in Uptown Kenosha, and offering emotional, psychological, and spiritual care. The Community Support Sessions are helping community members cope with difficult experiences and their negative feelings by providing strategies and techniques for how to care for themselves and others during trying times.
Thank you to Advocate Aurora Health for providing additional resources to the Kenosha community following the trauma it experienced.