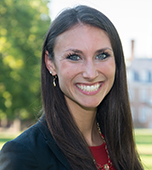 By Caitlyn Gudmundsen, Senior Manager of Program Development and Outreach
Today's Front Line Hero is Ascentria Care Alliance, which is empowering individuals and its community as a whole.
Ascentria Care Alliance serves its community throughout New England, with programs in Maine, Massachusetts, Connecticut, New Hampshire, and Vermont. It defines the name "Ascentria" as "rising together," and the organization states it is called to "strengthen communities by empowering people to respond to life's challenges." Ascentria empowers vulnerable families and individuals by providing wrap-around services and offering holistic care to children and families, new Americans, and older adults with a wide array of programming.
Ascentria is proud of Chantal Zuzi, whom it formerly served in its unaccompanied minors program. Chantal recently accepted a position as the Senior Fellow of Student and Alumni Relations at RefuSHE. Her work will include creating resources for settled alumnae and girls at RefuSHE who are still waiting for resettlement. Ascentria congratulated Chantal, who, informed by her own experience as a refugee, will support other refugees.
Ascentria is empowering the larger community by publicly sharing information about voting in 2020. As the pandemic will make voting more complicated this year, Ascentria is offering vetted information so Americans can protect both their health and their fundamental right to vote. There has been much confusion around voting by mail, so Ascentria is sharing details including who can vote by mail, important deadlines, and how to apply to vote by mail. For information about voting, visit https://www.usa.gov/voting
Thank you to Ascentria Care Alliance for your ongoing commitment to empowering your community!