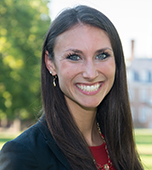 By Caitlyn Gudmundsen, Senior Manager of Program Development and Outreach
Today's Front Line Hero is Carroll Lutheran Village, which is supporting local students at Carroll Community College.
Carroll Lutheran Village is a continuing care retirement community in Westminster, MD dedicated to person-centered care. The campus includes a wide array of options and services, including private suites for assisted living, rehabilitation, long-term care, and memory support. The staff at Carroll Lutheran Village are committed to serving older adults and providing them the best possible life, and partner with various community and educational organizations that share their passion for older adults.
One of Carroll Lutheran Village's community partners is the Carroll Community College. The community college relies on an annual gala fundraiser to finance scholarships and other campus initiatives, and this year, Carroll Lutheran Village is one of the gala's main sponsors. The Starry Night Gala will take place virtually to prevent the spread of COVID-19, but is shaping up to be an exciting event nevertheless! Attendees of the December 4 gala will have the chance to participate in a silent auction, and receive a box delivered to their homes with ingredients for the signature 2020 cocktail as well as a selection of hors d'oeuvres from a local restaurant. Carroll Lutheran Village is proudly supporting local education, and serves as the Starry Night Gala's "Galaxy Sponsor." Carroll Lutheran Villages encourages its community to join in supporting the community college by attending the virtual gala.
Thank you to Carroll Lutheran Village for finding virtual ways to support local education through the pandemic!