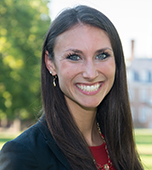 By Caitlyn Gudmundsen, Senior Manager of Program Development and Outreach
Today's Front Line Hero is Genacross Lutheran Services for designating a rehabilitation center as a COVID-19 isolation unit and helping community members as they recover from the virus.
In mid-April, near the peak of the COVID-19 pandemic in Ohio, Genacross designated The Labuhn Center, a free-standing rehabilitation center on its Toledo Campus, as a COVID-19 isolation unit. Team members work exclusively in the unit and wear full personal protection equipment (PPE).
"Genacross made the decision to begin admitting COVID-19 patients from local hospitals," said Rick Marshall, Genacross President/CEO. "This is a service to the community at large and aligns with the Genacross mission and values to serve individuals in need. We wanted to be a community resource to help patients recover from the debilitating effects of the virus."
The preparation of this specialized unit took a great deal of time and dedication by the Toledo Campus team members. From maintenance changing the airflow system to the administration and nursing management teams determining where to enter and exit the unit and where to don and remove PPE, the logistics were daunting.
In addition, the dietary department had to design a new meal delivery process, and housekeeping and laundry had to determine the best practices for delivering their much needed services. The activities team was integral as well, providing inspiring ways to enrich the lives of the residents in isolation.
Several nursing team members, who are required to wear full PPE for four hours at a time with no breaks, answered the call to serve the residents in isolation. These dedicated team members are walking with the residents through the journey of this pandemic and have provided physical healing, as well as emotional and spiritual support.
To date, The Labuhn Center on the Toledo Campus has serve more than 40 patients from area hospitals. One of those patients was Gladys Sigarroa, who was in town visiting her daughter when she became ill and was diagnosed with COVID-19. She had been in the hospital for more than 30 days and spent 27 days on a ventilator. When Gladys came to the Toledo Campus to continue her recovery, she was on a puree diet and unable to walk. After more than 20 days of nursing and therapy services, she was finally able to return home. Team members held a Clap Out for Gladys in front of The Labuhn Center as she walked out of the building to celebrate her healing, and shared the video of the Clap Out on the Genacross Facebook page.
"The team at our Toledo Campus is doing some amazing work with recovering patients," Mr. Marshall said. "Their compassion and dedication are to be commended."
Thank you to Genacross and all the committed staff who work there for serving your community's needs amidst the COVID-19 pandemic!