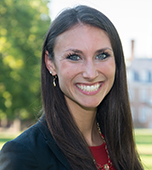 By Caitlyn Gudmundsen, Senior Manager of Program Development and Outreach 
Today's Front Line Hero is KenCrest, which is providing virtual vacations to the KenCrest family.
KenCrest supports "community development by exploring possibilities, mobilizing resources, and empowering dreams." Its offerings include educational services for children and families, as well as community-based programs for people with developmental or intellectual disabilities of all ages and their families. KenCrest is headquartered in Blue Bell, PA, but serves more than 12,500 individuals annually across Pennsylvania, Delaware, and Connecticut.
Many of the individuals who are served by KenCrest had to cancel their vacations when the COVID-19 pandemic hit. They are disappointed that their plans have been disrupted, so KenCrest is getting creative. The Enabling Technology department at KenCrest is working on a project that will simulate vacations through virtual reality. Generous donations enabled KenCrest to purchase four Oculus devices, which will help bring virtual experiences to life. The virtual reality headsets will make it feel like participants are walking along a beach, hiking through the woods, or enjoying a concert. KenCrest is even working to bring the details together to make the virtual vacations immersive, like sand, scented oils, and headphones.
Thank you to KenCrest for getting creative, and bringing much needed vacations to the KenCrest family!