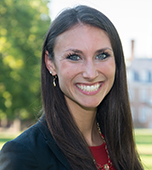 By Caitlyn Gudmundsen, Senior Manager of Program Development and Outreach
Today's Front Line Hero is LSS Lutheran Village, which held a car parade to connect families and residents while maintaining necessary social distancing.
LSS Lutheran Village is an assisted living facility in Ashland, OH, and is a program of Lutheran Social Services, which provides services in 27 counties in Ohio. The LSS Network of Hope's mission is to contribute to a better world by serving people in need, and at the LSS Lutheran Village, the organization lives out its faith by providing seniors with excellent healthcare services within a welcoming, home-like setting.
LSS Lutheran Village recognizes that its residents are missing their families with the necessary visitor restrictions due to the COVID-19 pandemic. So that residents and families could see each other while maintaining social distancing to keep everyone safe, LSS Lutheran Village hosted a car parade. There was a great turnout with 35 cars and 22 families participating! It was a very emotional event, as the residents and families hadn't seen each other in a long time and were overjoyed to interact, even if from a distance. Executive Director, ShaNa Benner said the day of the car parade was the "best day in all my 18 years here!"
Thank you to LSS Lutheran Village for your creativity in connecting residents to their families!