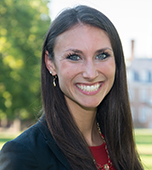 By Caitlyn Gudmundsen, Senior Manager of Program Development and Outreach 
Today's Front Line Hero is Lutheran Life Communities, which is honoring its front line staff with Friday celebrations and t-shirts.
Lutheran Life Communities is passionate about providing high quality residential and healthcare options for seniors and their families. Its person-centered approaches are designed to meet seniors' specific needs, including personalized short-term rehabilitation and memory care. Lutheran Life Communities has five campuses with locations in Illinois, Florida, and Indiana, and its Lutheran heritage and core values of compassion, excellence, learning and innovation, and stewardship impact those campuses on a daily basis.
Lutheran Life Communities is grateful for the professionals who work faithfully to live out the mission, and it demonstrated that gratitude by celebrating the staff on two consecutive Fridays, (September 25 and October 2). Team members across Lutheran Life Communities campuses recognized each other's hard work, and wore t-shirts that celebrate the strength, unity, diversity, and community throughout the organization.
An individual team member at Lutheran Life Communities who will be recognized for his excellent work is Reverend Cory Wielert, Corporate Director of Spiritual Care. Rev. Wielert will accept the Gutenberg Award from the Chicago Bible Society on behalf of chaplains who are serving in senior living communities. Chaplains' ministry is so important, perhaps now more than ever amid the COVID-19 pandemic, and we are grateful for their service to seniors.
Thank you to Lutheran Life Communities for your staff's incredible commitment to seniors, and for recognizing their hard work and resiliency during the pandemic!