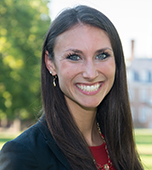 By Caitlyn Gudmundsen, Senior Manager of Program Development and Outreach
Today's Front Line Hero is Lutheran Services Florida, which is providing services to people facing mental health challenges and addiction to prevent them from entering the criminal justice system.
Located in Jacksonville, FL, Lutheran Services Florida (LSF) Health Systems provides behavioral health care for people who face poverty and are without insurance. To ensure that the community's mental health needs are adequately met, LSF is partnering with the Jacksonville Sheriff's Office on a co-responder program. The program pairs a full-time police officer with a mental health clinician from LSF to patrol neighborhoods and partner in crisis intervention calls that involve mental illness, substance use, and other emotionally-charged situations. The innovative program is one of only three of its kind in Florida, but has been so successful that the Jacksonville Sheriff's Office Director has applied for a grant from the Department of Justice to expand the program to two or three more patrol teams.
Christine Cauffield, CEO of LSF Health Systems, noted that the program saves the tax payer money with fewer people going to jail or to the emergency department for their mental health needs. "It's smart justice and people have been able to avoid arrest or being Baker Acted," she explained. "In fact, our stats are showing that 92% of the individuals that interact with this co-responder program are diverted from jails, from emergency rooms, from crisis stabilization units."
Thank you to Lutheran Services Florida for shifting the paradigm and meeting mental health needs in your community!