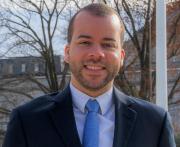 By Christopher Findlay, Senior Marketing Manager
Today's Front Line Hero is Lutheran Social Services of Alaska for offering a helping hand to tens of thousands of Alaskans amid a resurgent COVID-19 pandemic.
The Anchorage-based LSSA provides hope to low-income individuals and families across Alaska, many of whom have to choose between heating their homes, purchasing enough food, or paying for life-sustaining medications. LSSA's goal is to respond to human need through services that sustain and transform lives. The nonprofit distributes more than 700,000 pounds of food annually and logs about 7,000 volunteer hours, allowing it to make a difference in the lives of 40,000 people every year.
As cases of COVID-19 continue to surge nationwide, LSSA is fighting to alleviate the pain many Alaskans are feeling. With resources running low and debts steadily rising, LSSA is helping those feeling the crunch by providing support with car payments, food for families, and other forms of assistance. The incoming winter has also pressed the need for heating, the costs of which are expected to skyrocket. "The longer we go into this pandemic, the more people are hurting," LSSA executive director Alan Budahl told the Anchorage Daily News. LSSA's Food Pantry offers emergency food items — perishable, non-perishable, and frozen — to individuals and families in need. Additional government commodity boxes are available to older adults who meet age and income guidelines.
Thank you to Lutheran Social Services of Alaska for providing essential resources and comfort to so many people during these challenging times.