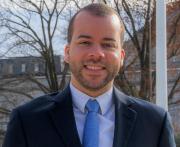 By Christopher Findlay, Senior Marketing Manager
Today's Front Line Hero is Lutheran Social Services of New York for its commitment to the growth and success of students at The New LIFE School in the New York City area.
The New LIFE School, which is operated by LSS New York, opened its doors in 2006 with the mission to "educate students in time to make a difference." It focuses on empowering students who have struggled academically, behaviorally and emotionally in a mainstream school setting, helping them to gain confidence, learn valuable academic and life skills, and realize their true potential. The school's dedicated staff works to ensure that each student's individual needs are met through differentiated, hands-on and exciting learning opportunities.
The school didn't allow the coronavirus pandemic to shelve this year's graduation ceremony. Since an in-person event was not possible, the school held a virtual graduation event where about 70 students, family members and LSSNY staff attended. Valedictorian Dayron Garcia Varo spoke at the ceremony about how he had set goals shortly after entering high school to achieve what he wanted to achieve, including becoming valedictorian. Dayron aspires to become a math teacher and hopes to help students with learning disabilities overcome their obstacles. As he told his classmates, "We are more than test scores. We are students with goals and bright futures."
Thank you to LSS New York and The New LIFE School for expanding opportunities to students and to Dayron for inspiring this latest class of young scholars.