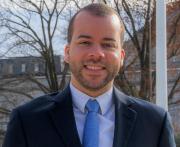 By Christopher Findlay, Senior Marketing Manager
Today's Front Line Hero is Lutheran Social Services of North Dakota for offering mental and emotional support during this time of such grief and loss, and for its commitment to adoptive, foster and kinship parents.
Since LSS North Dakota's founding more than 100 years ago, its services have expanded to meet the changing needs of individuals, families and communities. Today, LSS builds and strengthens communities through support services focused on family (e.g., adoption and family coaching), mental health (e.g., counseling and domestic violence interventions), and youth (e.g., school-based interventions and juvenile court diversion).
At a time when Americans are increasingly feeling socially isolated due to COVID-19 restrictions, the importance of maintaining one's mental and emotional wellbeing has never felt greater. Lutheran Social Services of North Dakota's and Abound Counseling's mental-health providers will continue to offer therapy services via telehealth options. The organizations are committed to continue accepting new clients on top of existing caseloads. Abound Counseling and LSS of North Dakota are also collaborating with the BE A FOSTER Movement to help provide high-quality podcasts on topics that are of importance to adoptive, foster and kinship parents. In addition, the groups conducted a virtual book club this summer that focused on the second edition of "Behavior with a Purpose, Thoughtful Solutions to Common Problems of Adoptive, Foster and Kinship Youth," where many foster parents were able to receive continuing education credits through their licensing agency for their participation.
Thank you to LSS North Dakota for expanding your services and finding new, engaging ways to support your community.