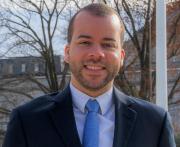 By Christopher Findlay, Senior Marketing Manager
Today's Front Line Hero is Samaritan Counseling Center of Southern Wisconsin for expanding services during the pandemic to give people a sense of stability through this time of uncertainty.
For nearly three decades, the Monona-based Samaritan Counseling Center has provided counseling services to people of different backgrounds and walks of life. The organization adheres to a philosophy of caring for the mind, body, spirit, and community in all manners of counseling, from trauma and depression to couples counseling and therapy for children and adolescents.
Throughout all the challenges the COVID-19 pandemic has presented, Samaritan Counseling Center has also found opportunities. The organization's executive director, Dan Feaster, recently outlined the benefits that expanded use of telehealth has brought, including more accessibility to both current and new clients. For instance, the center is using virtual health visits as a way to continue counseling services for older adults with depression and anxiety who can no longer drive. What's more, the organization hired a new therapist to help treat clients at a time when mental health services are so crucial. From front line workers who grapple with the stress of working in an environment at greater risk of coronavirus exposure, to others who may be struggling with job loss or other forms of uncertainty, Samaritan Counseling Center is committed to serving the needs of its community.
Thank you to Samaritan Counseling Center for being the mental, emotional, and spiritual rock of the Madison area.