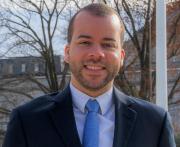 By Christopher Findlay, Senior Marketing Manager
Today's Front Line Hero is Samaritas for expanding its level of service to the local community in Grand Rapids with the opening of its new Senior Affordable Living Community and West Michigan Child and Family Campus.
Samaritas is one of the largest faith-based, nonprofit health and human service organizations in Michigan. Transforming communities since 1934, Samaritas serves more than 20,000 people in Michigan by helping children find loving families, establishing new homes for refugees, offering transitional homes for the homeless, and providing affordable living communities for older adults, families and people with disabilities.
Samaritas believes its staff "are the rocks that start the ripple of transformation" for those they serve. The ripple grew much bigger on Friday with the grand opening of Samaritas' Senior Affordable Living Community and West Michigan Child and Family Campus in Grand Rapids. Housed within the newly renovated historic St. Joseph Seminary building, the West Michigan Campus expands Samaritas' ability to serve the community by housing several services under one roof. Affordable housing is the largest health and human service need in not only Michigan but the United States generally, stated Sam Beals in a recent television interview, and Samaritas is proud to include 53 affordable living units for low-income older adults on the new campus. The campus also expands services to children and families, as well as refugees, the homeless, and people with disabilities.
Thank you to Samaritas for continuing to expand your ripples of transformation throughout Michigan's communities!