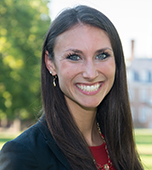 By Caitlyn Gudmundsen, Senior Manager of Program Development and Outreach
Today's Front Line Hero is the Evangelical Lutheran Good Samaritan Society, which purchased 1,000 iPads to keep families and residents connected and safe.
The Evangelical Lutheran Good Samaritan Society provides senior care in 26 states, and is rooted in its faith-based mission and focus on compassionate care. When the COVID-19 outbreak hit and the Good Samaritan Society locations had to enforce visitor restrictions, leadership worried about increasing isolation at the senior care locations. Leadership wanted to find ways to keep residents engaged with their families, while keeping them safe from COVID-19.
Soon after the pandemic began, the organization made efforts to connect families and residents by purchasing 1,000 iPads for its rehab/skilled care and assisted living locations. Helping residents connect to their loved ones has become such a part of daily life that staff at many of those locations say they can't imagine life without the iPads. Staff say their calendars have been full of video appointments since the iPads arrived, and that the video chats are the next best thing to allowing visitors into the building. The iPads are now also being used for doctor's visits, music therapy, and screenings and check-ins.
Staff have found fun ways to engage with the iPads, like one director of activities, who printed off photos of characters from the Brady Bunch to label the 9 iPads received at that location. Residents and families have been appreciative of the new-found way to connect, and the Good Samaritan Society staff say they feel supported through having the appropriate protective equipment and the iPads. For some residents, using an iPad to video chat is new to them. One employee recalls the first video visit she set up for a 99-year-old resident who said, "I've lived through a horse and buggy and now I'm seeing my son on the telephone."
The Good Samaritan Society leadership recognize that giving residents the opportunity to connect to their families is giving them life.
Thank you to the Evangelical Lutheran Good Samaritan Society for your commitment to seniors' well-being, and helping prevent social isolation by providing resources for virtual family visits!