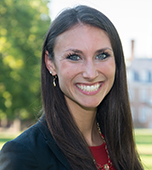 By Caitlyn Gudmundsen, Senior Manager of Program Development and Outreach
Today's Front Line Hero is Twin Lakes Community, which is committed to lifelong learning for seniors.
Twin Lakes Community is a Continuing Care Retirement Community (CCRC) located in Burlington, NC. It is one of the largest and longest-established CCRCs in the state, with a campus of more than 500 independent living residents, as well as residents in other levels of care. Twin Lakes' aim is to help seniors live with real purpose, and its mission is to celebrate the progression of life and dignity by empowering everyone in the community to live, work, and serve to their fullest potential.
In alignment with Twin Lakes' mission, the community is committed to lifelong learning, and views its slogan, "Live, Learn, and Grow" as a way of life. Twin Lakes offers a wide range of lifelong learning programs, including its partnership with Elon University, which is just minutes away. LIFE@Elon is the university's lifelong learning program, offering non-credit educational opportunities to people ages 50 and older. The program includes classes on a variety of subjects, including arts, literature, history, politics, and sciences, that are taught by retired Elon faculty, as well as other local educators. The LIFE@Elon classes are well attended by the Twin Lakes Community residents! Classes start this month, and all the content has been transferred online to keep seniors in the community safe from the coronavirus.
Thank you to Twin Lakes Community for offering safe and meaningful opportunities for seniors to engage in lifelong learning!