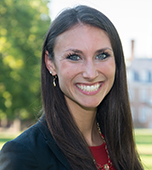 By Caitlyn Gudmundsen, Senior Manager of Program Development and Outreach
Today's Front Line Hero is Wernle Youth & Family Treatment Center, which is keeping youth engaged with fun activities like the recent room decorating contest.
Wernle Youth & Family Treatment Center is located in Richmond, IN, and was originally founded in 1879 as an orphanage. Today, Wernle provides care for adolescents ages ten to twenty-one who exhibit significant behavioral challenges. Through both outpatient and residential services, Wernle crafts individualized therapeutic treatment plans for each child with a focus on building the confidence and behavioral controls needed for when they leave Wernle.
As a faith-based organization, Wernle partners with local congregations to provide spiritual care to the adolescents it serves. Local congregations show their support for Wernle in many ways, including sewing quilts for the adolescents to remind them that their community cares for them, and sending videos of their choirs singing. Wernle encourages the youth to engage in activities like drawing prayer cards, and is cognizant that holistic care includes spiritual health.
Wernle is always looking for fun ways to engage the youth who reside on its campus. From Christmas in July to collaboratively crafting towns out of popsicle sticks, Wernle has lots of fun activities for adolescents. One of those fun activities this summer was a room decorating contest. The boys and girls got to showcase their creativity by decorating their rooms with vibrant, handmade art that showcases their personalities!
Thank you to Wernle for your ongoing support of youth, and for ensuring they are engaged in fun activities!