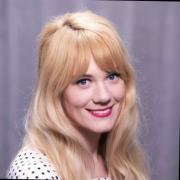 By Emily Gross, Senior Manager of Program Development and Outreach
Growing up in the Avondale neighborhood in Chicago, high school senior Valery Trigsted first heard about Concordia Place when she was 13. At the time, some friends from school told her about Emerging Leaders, a program they were enrolled in that empowers teens through service-learning projects. Seeking something she could get involved in after school, Valery joined her friends in the program and started spending time at Concordia Place cooking, creating arts and crafts, and gardening. What Valery did not realize is this was just the beginning of a five-year journey that would make her a leader among her peers.
Valery's experience at Concordia Place came at a significant time in her life, after her father passed away when she was in the seventh grade. Through the program, she collaborated with other young people who she says are now her best friends, many of whom she knew from her school but had not had the opportunity to connect with otherwise. "Concordia Place was like a second home for me," says Valery, "The people there made me who I am and made me feel comfortable and safe."
Staff noticed early on Valery's potential. Within one year of her joining Emerging Leaders, they offered her an internship with Ruckus Entrepreneurs, a program that gives youth ages 16-18 a unique opportunity to manage a socially responsible small business. Valery was just 14 when she began her internship.
Ruckus Entrepreneurs create and sell their own handcrafted body care products fashioned from organic, sustainable, and local ingredients whenever possible. Products include natural soaps, non-aluminum deodorants, and shea and lip balms. The business also gives back to the community through "Buy One, Give One" – with every purchase of a Ruckus body care product, they donate a product to an organization serving people in need.
Through her internship, Valery has learned product management and marketing and recently had her first foray into web design. After COVID-19, the Ruckus team explored online sales options and Valery has helped present several design options to Concordia Place leadership. She has also learned new communication skills that help her flourish as a leader. "Being a part of Concordia was probably the best decision I ever made. I was shy and timid before joining and it really brought me out of my comfort zone in different times. The people you meet, the different opportunities, and seeing how much people care about you – I couldn't turn that down."
Valery is now using her leadership skills to engage the greater community and help others. She recently joined the Thrive Teen Advisory Board in Chicago and is also an organizer for the Midwest Workers Association, an advocacy initiative focused on the needs of South Side residents. When asked what her goals are for the future, Valery says, "I wish to instill change where I see fit and remove the disparities that are in place right now for various reasons."
Valery's time at Concordia Place will soon come to an end; she is now 18 and will graduate high school this year. As she reflects on her internship and Emerging Leaders, she said she will no doubt carry her experiences forward. "Their goal is to create leaders, and that's what they did with me."
Concordia Place is a member of the Lutheran Services in America network and provides growth and opportunity to 800 children, teens, and adults each year, no matter their age or circumstance. To find out more, please visit their website www.concordiaplace.org.