FRONTLINE HEROES ARTICLES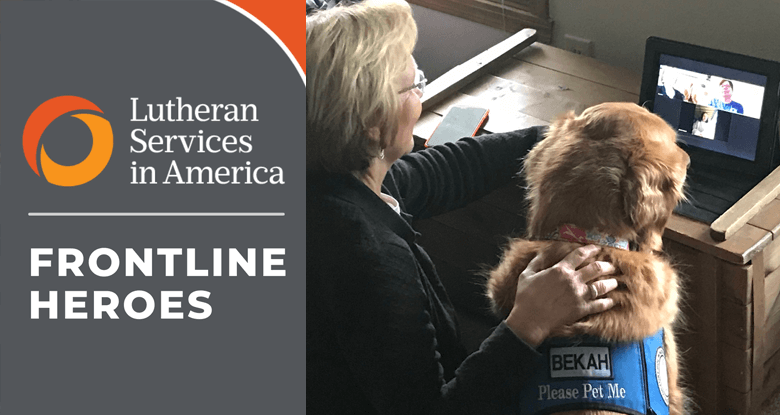 Today's Front Line Hero: Lutheran Church Charities
May 5, 2020
Today's Front Line Hero is Lutheran Church Charities (LCC), and the LCC K-9 Comfort Dog Ministry, which has adapted their services to offer virtual visits during the COVID-19 pandemic. The LCC K-9 Comfort Dog Ministry is based in Northbrook, IL and includes 130 trained golden retrievers in 26 states. The..
Read More
Get notified when a new blog article posts
Lutheran Services in America Urges CMS to Reconsider Skilled Nursing Facility Initiative, Seeks Member Data
In response to the recently announced plan by the Centers for Medicare & Medicaid Services to establish a minimum staffing requirement that would increase staffing in skilled nursing facilities (without additional funding), along with expanded inspections and increased penalties and enforcement, Lutheran Services in America wrote a letter to CMS administrator Chiquita Brooks-LaSure outlining our concern about the lack of understanding of the workforce shortages facing skilled nursing providers and the result that older adults will not have access to the care they need. We also invited our members and their networks to participate in our advocacy campaign to Brooks-LaSure and members of Congress.
Now, as we prepare for meetings with the Biden administration and lawmakers, we are strengthening our message with more facts and data from the Lutheran Services in America network and invite our SNF members to complete our quick survey.
CMS Updates COVID-Related Rules on Vaccinations, CNA Training
On April 5, CMS issued revisions to its rule mandating COVID-19 vaccination for workers at skilled nursing facilities, stating that staff who have been suspended or are on extended leave won't count against the providers as "unvaccinated staff." The agency also clarified that providers who have made "good-faith efforts" to ensure all staff are vaccinated but have not achieved full compliance may receive relief in the form of less severe citations and penalties. The guidance included several examples.
Subsequently, on April 7, CMS also announced that it is restoring training requirements for nurse aides who work at skilled nursing facilities after temporarily waiving them due to COVID-19. Since March 2020, the waiver for nurse aide certifications had allowed SNFs and other nursing facilities to employ aides for longer than four months without the necessary training and certification. While some waivers will still be allowed in cases where training and testing programs are over capacity, the majority will now terminate on June 7.
Eventual End of COVID-19 Public Health Emergency Will Impact Providers, States
The U.S. Department of Health and Human Services declared COVID-19 to be a "public health emergency" (PHE) effective January 27, 2020. This declaration activated certain emergency authority measures and the Department has also subsequently issued several rules and regulations linked to the existence of a PHE. Relief legislation passed by Congress has also tied various provisions offering flexibility on Medicare and Medicaid rules to the PHE. A PHE declaration automatically expires after 90 days, but HHS has issued repeated renewals of the COVID-19 PHE, with the current declaration now running through July 15, 2022.
While the Biden administration has committed to providing states with 60 days' notice prior to allowing the PHE to terminate, it is expected that the PHE will end at some point this calendar year. States and healthcare providers are encouraged to prepare themselves and those they serve for the consequences of the end of the PHE, so we have compiled a chart outlining the key flexibilities which are currently in effect that will come to an end when the PHE does or shortly thereafter.
Upcoming Congressional Town Hall Meetings
Members of Congress continue to hold virtual town hall meetings to address constituent concerns about coronavirus relief. Here is a look at upcoming sessions (click links below to find out how to join):
Member
District
Party
Format
Date & Time
Link
Sen. Ron Wyden
OR
D
Virtual (Gilliam County)
Apr. 19, 11 am PT
More
Sen. Ron Wyden
OR
D
Virtual (Umatilla County)
Apr. 19, 4 pm PT
More
Rep. Chrissy Houlahan
PA-6
D
In person (Phoenixville)
Apr. 19, 6:30 pm ET
More
Rep. Lauren Underwood
IL-14
D
In person (Huntley)
Apr. 19, 5:30 pm CT
More
Rep. Byron Donalds
FL-19
R
In person (Sanibel)
Apr. 19, 6 pm ET
More
Rep. Elaine Luria
VA-2
D
In person (Virginia Beach)
Apr. 19, 6:30 pm ET
More
Sen. Ron Wyden
OR
D
Virtual (Union County)
Apr. 20, 10 am PT
More
Sen. Ron Wyden
OR
D
Virtual (Wallowa County)
Apr. 20, 2:30 pm PT
More
Rep. Derek Kilmer
WA-6
D
Telephone
Apr. 20
More
Rep. Ayanna Pressley
MA-7
D
Virtual
Apr. 20, 7 pm ET
More
Rep. Lauren Underwood
IL-14
D
In person (Naperville)
Apr. 20, 5:30 pm CT
More
Rep. Kim Schrier
WA-8
D
In person (Wenatchee)
Apr. 20, 5 pm PT
More
Rep. Tom Cole
OK-4
R
Telephone
Apr. 20, 6 pm CT
More
Sen. Ron Wyden
OR
D
Virtual (Morrow County)
Apr. 21, 1 pm PT
More
Rep. Cathy McMorris Rodgers
WA-5
R
Telephone
April 27, 6 pm PT
More