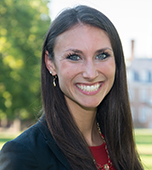 By Caitlyn Gudmundsen, Senior Manager of Program Development and Outreach
Today's Front Line Hero is Advocate Aurora Health for creating a positive work environment for its employees, even amid the challenges of COVID-19.
Advocate Aurora Health is one of the 10 largest non-profit health systems, and a leading employer in the Midwest. It includes more than 500 sites and serves more than 3 million patients annually. With an aim to help people live well, Advocate Aurora is a national leader in clinical innovation, health outcomes, consumer experience, and value-based care.
Modern Healthcare named Advocate Aurora Health on its 2020 Best Places to Work in Healthcare list. This award program "identifies and recognizes outstanding employers in the health care industry nationwide," and selects award recipients based on their work empowering teams to provide patients and consumers with the best possible care.
Also considered in the selection process is transparency in communication from leadership, generosity of benefits for employees, and navigation of the COVID-19 pandemic. The Best Companies Group assists Modern Healthcare in the assessment process, which includes an extensive employee survey. Modern Healthcare's editor, Aurora Aguilar said that 2020 has been a difficult year for everyone, but especially for those working in healthcare as COVID-19 continues to ravage communities. The organizations recognized this year were a source of strength for their teammates and have built trust during a critical period.
"Our 75,000 team members, physicians and nurses are the heart and soul of Advocate Aurora Health and their commitment to providing safe, high quality care to our patients enables us to fulfill our purpose of helping people live well," said Jim Skogsbergh, president and chief executive officer of Advocate Aurora Health. "We are honored to be recognized as a top workplace and remain committed to building our culture and ensuring an engaging environment for our team members to have a rewarding experience and pursue their passion."
Thank you to Advocate Aurora Health for fostering a positive work environment for employees throughout the pandemic, and for your commitment to holistic wellbeing for employees, and the larger community!