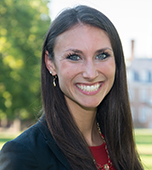 By Caitlyn Gudmundsen, Senior Manager of Program Development and Outreach 
Today's Front Line Hero is Blue Valley Lutheran Homes, which is forging creative partnerships to access supplies needed to adequately address COVID-19, and remaining transparent and communicative with families throughout the pandemic.
Blue Valley Lutheran Homes (BLVH) is a faith-based senior living facility that has served south-central Nebraska since 1948. Its mission is to care for the elderly and mentally challenged with dignity and respect through Christian love and compassion. Its services include nursing care, assisted living, long-term care, respite care, and rehabilitation services. BVLH is also committed to the spiritual well-being of its residents, and offers worship services of all denominations, as well as Bible studies, and other daily activities that cater to residents' interests.
As needed resources continue to be in short supply, Blue Valley Lutheran Homes is leaning on its partners to help with access to hand sanitizer. The Nebraska Health Care Association received donations of hand sanitizer from Tito's Handmade Vodka, so that nursing homes and assisted living facilities in Nebraska can continue protecting seniors in their care. BVLH jumped on the opportunity, and leveraged its partnerships to ensure it has the resources needed to keep residents safe.
In addition to those creative partnerships, BVLH is working hard to be transparent with families throughout the pandemic. Families are understandably worried about their loved ones in congregate care, so BVLH has made concerted efforts to post public updates about the state of COVID-19 in the facility, even as there are no cases. BVLH is also keeping families updated on cases in the county, and the steps it has taken in accordance with recommendations from the Centers for Disease Control and Prevention (CDC) to reduce the potential for the virus to enter the BVLH building. BVLH has committed to alerting families within 48 hours if there is a case in the building.
Thank you to Blue Valley Lutheran Homes for your creativity and transparency as you address the COVID-19 pandemic, and for your commitment to compassionate care for seniors!