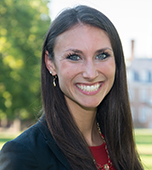 By Caitlyn Gudmundsen, Senior Manager of Program Development and Outreach 
Today's Front Line Hero is Cassia, which created a pen pal program to keep its residents connected to the community.
Cassia is headquartered in Edina MN, and provides independent senior living, assisted living, memory care, skilled nursing care, short-term transitional rehabilitation, adult day programs, and a variety of community-based services for older adults across five states. It is guided by the Christian faith, but committed to serving all people, and aims to help seniors live well.
When COVID-19 required senior living facilities to limit visitors, Cassia's Augustana Care Minneapolis started a pen pal program to help connect seniors to the community and prevent feelings of loneliness. The program matched more than two dozen residents, and an unlikely friendship has formed between 7-year-old Addie and 73-year-old Augustana Care Minneapolis resident Gary. Addie has missed seeing her friends since schools closed in March and Gary has missed having visitors, but the pair is keeping each other company through regular letters and bringing each other joy.
Addie's mom has been surprised by how much the two have in common. Addie and Gary write to each other about favorite trips they have taken, music they enjoy, and their artwork. They even have each other's drawings framed and displayed in their rooms. Someday when it is safe, Addie plans to invite Gary for dinner with her family, and Gary will invite Addie to his birthday party.
Thank you to Cassia for your work to keep seniors connected to the community through the pandemic!