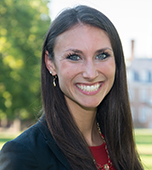 By Caitlyn Gudmundsen, Senior Manager of Program Development and Outreach
Today's Front Line Hero is Good Shepherd Rehabilitation Network, which is offering a wide array of virtual programming to support its community during the pandemic.
Good Shepherd Rehabilitation Network provides a complete continuum of care for adults and children with physical and cognitive challenges, and has served communities in Pennsylvania and New Jersey for more than a century. Good Shepherd is committed to compassionate care and innovation in its services, and is the world's leading clinical user of the Ekso Bionics exoskeleton for treating patients with spinal cord injuries.
Throughout the pandemic, Good Shepherd has continued to offer care in creative ways that prevent the virus from spreading in the community. One offering is the regularly scheduled Spinal Cord Injury Virtual Support Group. This meeting provides space for people with spinal cord injuries to connect and talk, and the gathering also includes presentation on new products available to support them. Additionally, Good Shepherd Pediatrics offers therapy for cyber school students with both safe in-person and telehealth services for children, including physical, speech and occupational therapy. Good Shepherd frequently posts resources that address specific needs associated with the pandemic, such as how to manage concussion symptoms during online learning and teleworking.
Thank you to Good Shepherd Rehabilitation Network for the many safe virtual offerings you are providing to the community to ensure people are safe and cared for through the pandemic!