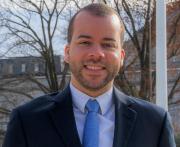 By Christopher Findlay, Senior Marketing Manager
Today's Front Line Hero is Glade Run Lutheran Services in Zelienople, Pennsylvania, for reopening in-person services for its Acute Partial Hospitalization program.
With history dating back more than 160 years, Glade Run has evolved to meet the needs of individuals and families across western Pennsylvania with a specific focus on education, mental health, autism, and other unique therapeutic offerings. Last year, Glade Run served more than 4,300 individuals in school, home, and community settings.
Glade Run recently announced it was accepting referrals for its youth Acute Partial Hospitalization program, which is designed to stabilize children experiencing significant psychiatric challenges with the goal of deterring inpatient hospitalization. While the COVID-19 pandemic has forced many providers to offer services virtually for the foreseeable future, Glade Run was pleased to offer a limited number of spaces for in-person services. Children who participate in the program are assigned a teacher who coordinates with the child's home district to gather information about the child's needs, inform the home district of the child's progress in treatment, and develop a plan for transitioning the child back to the home school district.
Thank you to Glade Run for offering this critical service to children and youth!