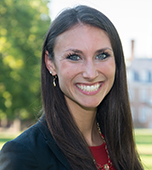 By Caitlyn Gudmundsen, Senior Manager of Program Development and Outreach
Today's Front Line Hero is Immanuel Communities, which is providing supports to seniors living independently throughout the COVID-19 pandemic.
Immanuel is a leader in the retirement living field, offering innovative programs in independent living, assisted living, memory support, and long-term care. Its faith-based mission guides the work at Immanuel, with a commitment to Christ-centered service to seniors, each other, and the community. Immanuel includes campuses across Nebraska, and two in Iowa, and with twelve decades of service, Immanuel is a trusted partner in those communities.
Immanuel published a recent blog post to help family members know how to best support their loved ones with dementia and Alzheimer's during the COVID-19 pandemic. The blog post recognizes that the pandemic has meant changing daily routines, which can pose a significant challenge for seniors, and enhance the experience of memory loss. Cameo Rogers, a Certified Dementia Practitioner with a passion for serving seniors with memory loss provided her expertise for this blog. She says that seniors, especially with early signs of dementia, can be at greater risk during COVID-19 social distancing. Rogers provides tangible suggestions for family members who are worried about older adults with memory loss, including sending them care packages with activities like simple puzzles, helping set up grocery delivery, using technology to connect with them, and helping them establish routines. The post also points family members to Immanuel's memory support services, where Rogers is active teaching best practices through national-level memory loss programs. Immanuel's memory support services tailor programming to each individual, understanding that everyone has unique memory support needs.
Experts at Immanuel are also providing resources to help seniors thrive during the pandemic. Its Thriving at Home for Seniors resource page includes resources for seniors and families with information on connecting during social distancing, how to stay well, eat well, and others.
Thank you to Immanuel for your work to support seniors holistically during the COVID-19 pandemic!