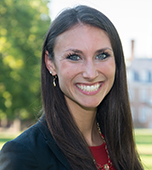 By Caitlyn Gudmundsen, Senior Manager of Program Development and Outreach
Today's Front Line Hero is Mosaic, whose Direct Support Professionals are going above and beyond in the time of COVID-19.
Andrea Young began working with Mosaic in Macomb, Illinois in 2018, and has truly shown to live for Mosaic's values of belonging, faithfulness, connection, and grit during the uncertain times of COVID-19. The virus entered one of Mosaic's group homes in March, and four people within one home tested positive. The team members in that home all responded with great courage, but Andrea's work stood out, in particular. As residents were required to isolate in their rooms, Andrea took extra time with each person and maintained a regular schedule with them. She consistently reassured them and ended her evening shifts each day by going into each person's room for a visit. Andrea asked the residents to name something they would enjoy, like a special dinner, an activity the two of them could do together, or virtual visits with loved ones, and she ensured those things happened. She volunteered to work extra hours, and paid close attention to ensure that the home had proper protective equipment for the staff and medication supplies for the residents. Andrea kept a positive attitude and helped the fellow staff when they were feeling worn. According to her supervisor, Andrea made the day bright, even when things were scary.
Erika Estrada is employed at Mosaic's Central Nebraska agency, and when various staff, including Erika's supervisor, were force to self-quarantine and work from home, Erika took on new roles. There is no job title Erika has not filled or supported during this time of crisis; she has served as a manager, DSA, trainer, behavior support specialist, co-worker, supervisor, friend, and the list goes on. At the beginning of the pandemic, Erika purchased a sewing machine and materials to sew cloth masks for herself and her co-workers to protect them. When stores were short on supplies, Erika made trips day after day to various stores until all the sites had the supplies they needed. On weekends, Erika has been called into work with just an hour's notice, but she is committed to ensuring that the homes are staffed. She has adapted to new roles, worked above and beyond her job description, and kept a positive attitude throughout.
Mikayla Jaras works in day service for Mosaic's Northeast Nebraska agency. Mikayla has been wonderfully creative in engaging the staff and individuals at Norfolk/Hartington day. She has organized scavenger hunts, had daily selfie contests with different themes, scheduled drive by's to celebrate birthdays, and made sure everyone feels included and connected. She recently started overseeing a new location (Hartington, NE) and has welcomed them to the Northeast team. Mikayla is passionate about the people she serves, and her department reflects that passion.
Thank you to Andrea, Erika, and Mikayla for the love you show to the people you serve, and your commitment to Mosaic's important work!