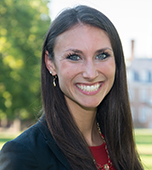 By Caitlyn Gudmundsen, Senior Manager of Program Development and Outreach
Today's Front Line Hero is Josephine Caring Community, which is providing comfort to its residents and its community by sharing readings from Psalms.
Josephine Caring Community provides a home for seniors with services such as assisted living, transitional rehabilitation, and long-term care, as well as early learning and childcare. Located in Stanwood, WA, Josephine is committed to ensuring that no one in its community is left uncared for and aims to be a resource for all generations.
The COVID-19 pandemic has left many people across the country and across the world feeling fearful and anxious. Josephine is helping address those feelings in its community by sharing readings from the book of Psalms. Josephine has posted multiple videos over the past months of its senior residents reading from Psalms. In the most recent video, the elders read Psalm 139, which is a reminder of God's presence. Messages such as, "You have searched me and know me. You know when I sit down and when I rise up…" serve as a reminder that we are not alone through this global pandemic, and offer comfort from the ancient book.
Thank you to Josephine Caring Community for engaging senior residents in readings of Psalms, and providing the larger community with messages of comfort through these difficult times.