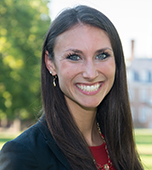 By Caitlyn Gudmundsen, Senior Manager of Program Development and Outreach
Today's Front Line Hero is Liberty Lutheran's retirement community, The Village at Penn State, which continues to offer fun activities for residents to stay active throughout the pandemic.
Located in State College, Pennsylvania, The Village is proud of its close relationship with Penn State University. Prior to the COVID-19 pandemic, residents were often found at the university, attending University sporting events, arts programs, and taking classes.
As a continuing care retirement community, The Village offers an array of options and services at all stages of retirement, including independent living, personal care and skilled nursing. Over the past several months, the staff have taken extra precautions to prevent the virus from entering the community, and to-date there have been no cases among residents or staff.
During the height of the pandemic in Pennsylvania, residents were offered activities that they could do within the comfort of their own apartments or cottages, while meals were delivered right to their door. Now that the surrounding area is opening up according to the criteria created by Pennsylvania's Governor and Department of Health, staff and residents are able to take part in outdoor activities.
"Once we explained everything to our residents, they understood and worked with our staff to do everything they could to stay safe," says Ellen Corbin, The Village's executive director. "We have a wonderful team here, and even though we've had no cases we continue to work had as we ease into a new normal."
Thank you to everyone at The Village at Penn State for your hard work and commitment to keeping your residents safe. Lutheran Services in America is proud to highlight your work as a source for home and peace of mind for older adults and their families.