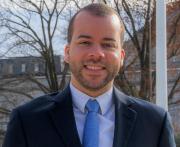 By Christopher Findlay, Senior Marketing Manager
Today's Front Line Hero is Lutheran Social Services of Central Ohio for providing Thanksgiving meals to people without homes.
The Columbus-based Lutheran Social Services provides services across 27 Ohio counties to address challenges related to food, shelter, safety, and healing. The organization runs five permanent food pantries, two homeless shelter programs, domestic violence services and a safe haven shelter, and three social enterprises. In 2017, LSS received the Columbus Foundation Award for helping central Ohioans in need.
In a year when pandemic has forced many into social isolation, the Thanksgiving holiday poses additional challenges for people without housing. LSS intends to help see people through this difficult time by providing turkey dinners for residents of its Faith Mission shelter. For safety, residents will have dedicated areas where they can share their meal with others they are staying with at the shelter. The dinners will be prepared by local motorcycle clubs and will include some of the most important staples of a Thanksgiving dinner—collard greens, macaroni and cheese, mashed potatoes.
Thank you to LSS for providing food security—and a bit of holiday cheer—to residents this Thanksgiving.