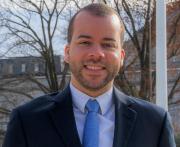 By Christopher Findlay, Senior Marketing Manager
Today's Front Line Hero is Lutheran Social Services of the Virgin Islands for supporting local communities in the wake of the recent hurricanes and the COVID-19 pandemic.
LSSVI traces its roots back to 1904 when Princess Louise of Denmark sent two deaconesses to St. Croix to help combat the island's high infant mortality rate. Today, LSSVI continues to care for infants and toddlers as well as low-income older adults and people with disabilities. The organization is also committed to providing disaster relief to support families most affected by the damage of the recent devastating hurricanes; LLSVI has assembled construction teams of 10–20 people to assist the rebuilding of damaged homes for low-income seniors across St. Croix.
Abiding by its motto "by love, serve one another," LSSVI is also forging partnerships in the community to ensure its staff and the people they serve receive the resources they need to protect themselves from COVID-19. Financial services corporation Ocwen USVI donated supplies for children and LSSVI employees at Sister Emma Cottage and Queen Louise Home for Children to remain safe and healthy. In addition to COVID relief, supporters in the St. Thomas community donated food and other supplies to help people with disabilities and older adults at LSSVI's senior living communities prepare for the next hurricane.
Thank you to LSSVI for your steadfast efforts in helping resilient communities across St. Croix carry on.