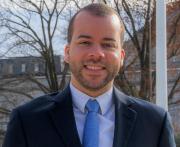 By Emily Gross, Senior Manager of Program Development and Outreach
Today's Front Line Hero is McKenzie County Healthcare Systems, Inc. for mobilizing their community to bring joy to seniors.
McKenzie County Healthcare Systems (MCHS) comprises a network of healthcare facilities in Watford City, North Dakota, and includes a wellness center, a hospital, rural health and specialty clinics, and two senior living communities. With COVID-19 on the rise, many families will unfortunately have to spend holidays apart. MCHS staff have recognized a greater need to foster connection between residents and their community and in recent weeks, put out a call to action to family members, donors, and local organizations to bring holiday cheer to seniors in their care. With the help of hundreds of volunteers, they worked swiftly to install Christmas trees, lights, and other decorations throughout their two communities — Good Shepherd Home and Horizon Assisted Living. Kristin Rhone, the activity director at Horizon Assisted Living, said staff wanted to let residents know the community is thinking of them even though in-person visits are limited. The end result of their effort is a winter wonderland for all to enjoy. MCHS also enlisted the help of children from Johnson Corners Christian Academy to sing Christmas carols for residents.
It is our honor to recognize McKenzie County Healthcare Systems for their empathetic and thoughtful support of seniors as social distancing measures continue this holiday season.