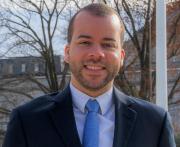 By Christopher Findlay, Senior Marketing Manager
Today's Front Line Hero is Humanitri in St. Louis for helping children and people experiencing homelessness achieve their goal of self-sufficiency and stability.
Humanitri has helped more than 6,300 homeless individuals since its establishment in 2006 following the merger of three organizations with more than 130 years of collective history. The organization works with families to establish stability in a supportive community and build the necessary skills to change the trajectory of their lives. Humanitri offers transitional housing services for all people, including the "hidden homeless" — people who do not necessarily live on the streets but rather in domestic violence shelters, the homes of family and friends, or in their cars. As part of the process of helping clients realize self-sufficiency, the organization helps them learn how to manage their finances, their household, and stress once they are placed into a home, and even teaches them how to navigate the job application process.
Humanitri places a significant importance on serving children given the unfortunate reality that the average age of a homeless person in the United States is just nine years old; many of the organization's clients are parents who are unable to find daycare for their children. The organization's service to children continues to grow in response to the COVID-19 pandemic. As many schools rely on virtual learning for safety reasons, Humanitri is moving forward on its Together Achieving Goals (TAG) children's program. The program, which is eyeing an early 2021 launch, will enable the organization to equip families with what they need to be successful in these abnormal times.
Thank you to Humanitri for your compassion and dedication to helping people of all ages get the support they need to thrive.