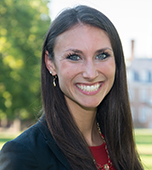 By Caitlyn Gudmundsen, Senior Manager of Program Development and Outreach 
Today's Front Line Hero is Oakwood Village, whose residents are enjoying nature walks and getting some fresh air throughout the pandemic.
Oakwood Village is a retirement community in Madison, Wisconsin with two campuses: Prairie Ridge and University Woods. Both campuses include a full continuum of care for seniors, offering independent living, assisted living, memory care, and rehab. The staff at Oakwood care deeply about the seniors they serve, develop strong friendships, and work to ensure the residents' holistic needs are met.
Oakwood created a new nature walk group so residents could enjoy the outdoors throughout the spring and summer months. Many of Oakwood's residents have developed a lifelong passion for being outdoors and enjoying nature, and the staff at Oakwood recognize the physical and emotional benefits outdoor activity can have. The group has been venturing off campus and into nature, taking advantage of the great walking and biking trails, beautiful natural settings, and lakes surrounding Oakwood's campus. With the COVID-19 pandemic requiring restrictions on activities, seniors have been itching to get outside and engage in safe activities like nature walks. Oakwood's nature walks have become a well-loved pastime among the seniors! Even as weather turns cold, the resident-coordinated walking group on campus will continue meeting three mornings every week to enjoy the newly installed Bluebird Trail on the Prairie Ridge campus.
Thank you to Oakwood for keeping seniors active and providing opportunities for them to enjoy nature throughout the COVID-19 pandemic!