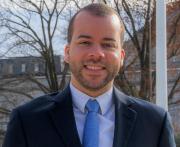 By Christopher Findlay, Senior Marketing Manager
Today's Front Line Hero is Wellspring Lutheran Services, which will open Michigan's first recovery high school for teens battling addiction in January.
Wellspring Lutheran Services' history dates back 125 years. Based in Flint, Michigan, Wellspring helps change lives, build strong families and transform communities through behavioral health, adoption services, affordable housing, assisted living, foster care, and other important services. The organization's behavioral health division emphasizes recovery from trauma, addiction and other challenges that prevent people from living their best life.
While the recovery high school model has been around for more than four decades, Michigan until this point had no such facility, despite the fact that the state has a disproportionately high rate of teen drug and alcohol use with nearly 2,000 students in southeast Michigan alone leaving school (voluntarily or involuntarily) due to use. As the first of its kind in the state, the new Wellspring Academy will provide smaller classrooms, customize workloads to respond to academic challenges, provide recovery-enabling enrichment activities, and create a welcoming environment where teens will be encouraged to be open about possible relapse. For COVID-19 safety reasons, the school will launch virtually in January before moving to in-person classes in September 2021.
Thank you to Wellspring for providing sorely needed support and helping students on their path to recovery.