Recently, I had the privilege to speak with Lutheran Services in America members about how they approach achieving health equity in their communities. Recognizing the challenges community members face with housing and food insecurity, lack of transportation, challenges receiving behavioral health care, and loneliness and social isolation (also known as social determinants of health (SDOH)), five members of the Coalition for Better Social Care shared innovative and promising solutions. Thanks to their groundbreaking approaches, more than 11,000 people have been screened for SDOH risks. Their efforts laid the groundwork for reaching more people, identifying their needs, and providing the services and supports that help community members live independently and thrive.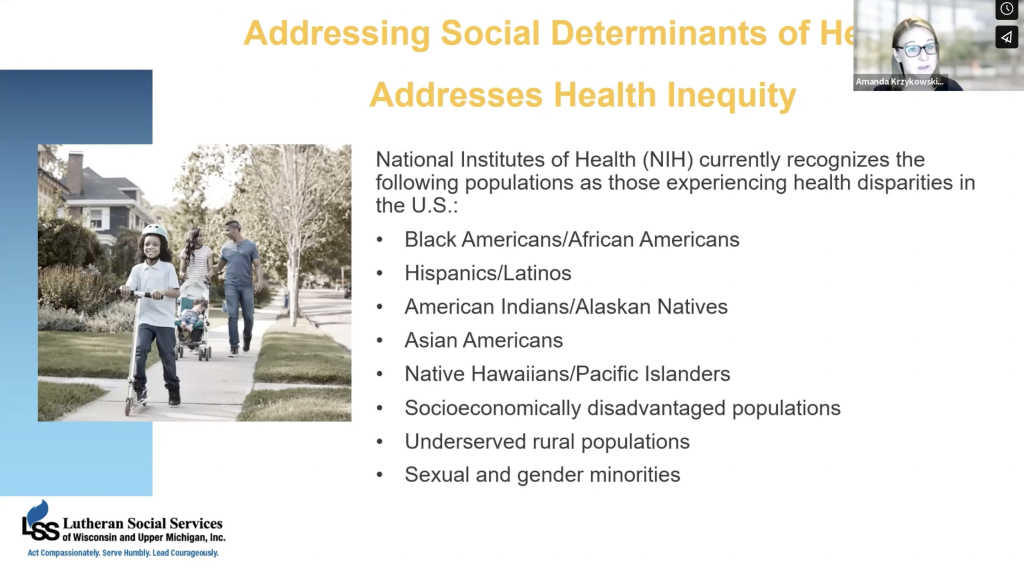 Below is a snapshot of the conversation with:
Watch the full conversation.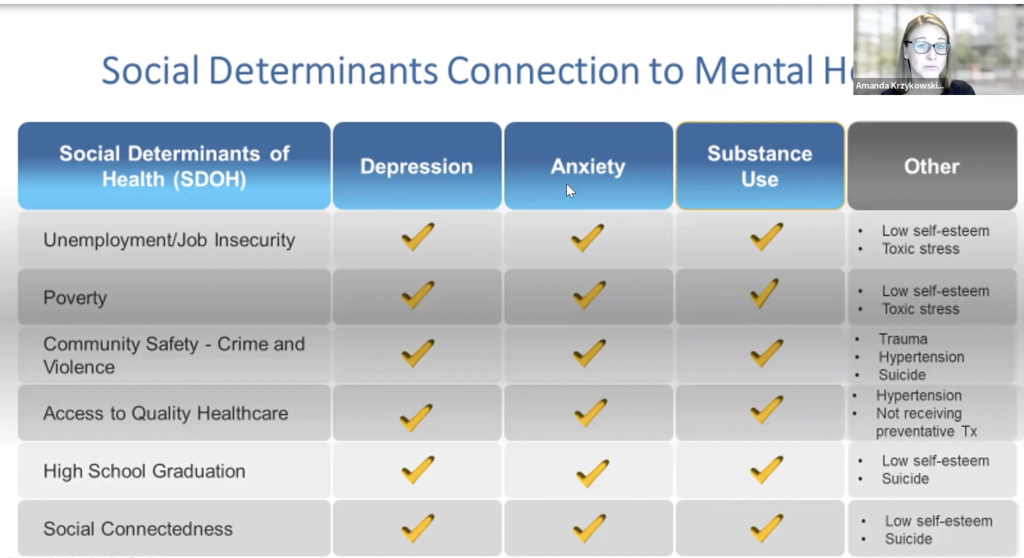 A key insight offered was to integrate screenings for social determinants of health during regular interactions with program participants. While screenings are often conducted during initial interactions, needs can change over time. Updated information can help tailor programs to current needs, use resources more effectively, allow more people to receive services, and better connect people with appropriate services to support their specific needs.
For example:
Lutheran Family Services of Nebraska shared that for a variety of factors, older adults were resistant to utilizing their behavioral health services. Staff started meeting residents where they were – in the dining facilities, at group activities – rather than scheduling formal appointments. Using relationship-building questions to initiate conversations, they earned the trust of the older adults which grew into identifying needs and providing appropriate behavioral health services.
Genacross Lutheran Services in Toledo, Ohio, suggested integrating facilities staff, who interact frequently with residents, into regular care planning meetings. Now, the facilities staff are key partners in identifying other services and support needed. A request to "just change a light bulb" expanded into a realization the resident had trouble getting out of their chair and might need medical attention.
Family Health Centers at NYU Langone is implementing new protocols when residents return home from the hospital (known as transitional care), conducting a targeted SDOH screening to identify the unique needs after hospitalization such as home care, transportation to medical appointments, and meal assistance.
During our conversation, members emphasized that addressing SDOH needs is the pathway to health equity. Lutheran Social Services of Illinois Director Matt Hammoudeh summarized: "Without stable and secure housing and other basic needs met, program participants struggle to focus on health matters such as doctor's appointments and filling prescriptions."
Our network excels at innovation in the face of challenging situations. Members of the Coalition for Better Social Care are seeking more reliable sources of funding to provide program sustainability, such as Medicaid reimbursements and contracts with health insurers. The mechanisms for reimbursement are still emerging, such as the Center for Medicare and Medicaid Service's recently proposed Physician Fee Schedule that includes SDOH reimbursements under Medicare, and new partnerships are needed to scale services. Going forward, we will be convening thought leadership on reimbursement mechanisms and enabling conditions leading to partnerships with health insurers and others.
We invite you to join your peers to advance health equity: Susan Newton, Senior Director of Strategic Initiatives at Lutheran Services in America, will guide you to a Collaborative that best fits your strategic direction.
For more information, watch our Strength & Service Series webinar "Swap Shop: Innovative Strategies Across the Network to Address Social Determinants of Health."
Looking for more information on social determinants of health? This easy-to-print graphic details what SDOH are and why they are important. We encourage you to utilize this resource and share it within your respective communities and organizations!